Shower Safer For Seniors
---
If you or a loved one is getting older, it is essential to know the hazards in the bathroom. 
How Can I Make the Shower Safer for Seniors?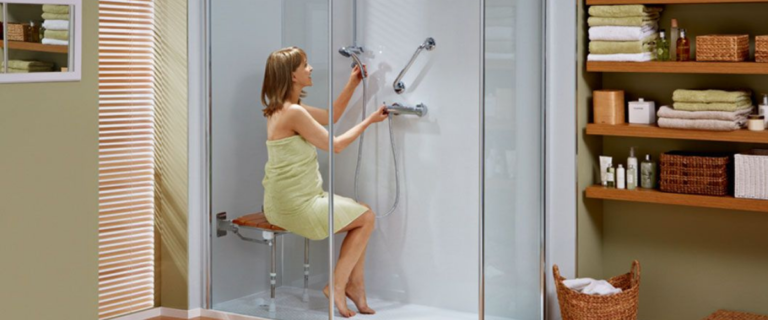 Some things become more hazardous as we age. While a host of them are easily avoidable (like playing certain sports or lifting heavy objects) others are part of our everyday lives and are necessities (like showering). If you or a loved one is getting older, you are likely aware of the hazards in the bathroom.  You know just how dangerous showering can be. Let's make the shower safe for the seniors in our lives. 
Thankfully there are many things you can do to help make your shower safe for yourself and the seniors in your life.  In order to do this, first, take a look around the bathroom and take stock of what is going on. In general, less is better, and being organized is essential to being safe.   
Of course, one of the simplest things to do is to identify the products necessary to keep in the shower – you know, those that are used on a regular basis.  How often have you seen a shelf or caddy in a shower crowded with partially filled bottles of shampoo, soaps, conditioners, and lotions?  Clutter often leads to dropped items and spills which can be slippery. In cases like this, an ounce of prevention can go a long way.  Cleaning up is key!
Another great idea is to consider a bathroom conversion in order to help keep the shower safe. These remodels address bathrooms and help make them safer. Standard showers and tubs often require difficult entry which can be dangerous, particularly for the elderly. The installation of raised shower floors and walk-in tubs can help make life so much easier for seniors and provide them with a sense of confidence.  Other additions you may want to consider are property-installed grip bars, hand-held showerheads, and nonslip rugs.
Use Reputable Company
Of course, you are concerned about the general safety of your bathroom, the perfect way to better understand potential hazards and solutions is to work with a reputable company and schedule an in-home evaluation. You would be surprised at the potential dangers they can identify and the valuable solutions they offer.
Bathroom injuries are incredibly common – and the shower and tub are the sites of many of them. And, chances of these unfortunate accidents increase as people age.  Take the time to review the current state of your shower and learn more about ways to make it safer. The ability to protect yourself and those you love is the greatest gift you can give.