Stair Chair Lift Retail, Rentals, Repairs, and Installation Services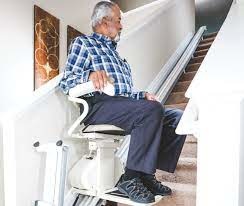 If stairs in your home keep you or your loved one from being able to access the upper level, we have a solution for you. Atlantic Healthcare Products carry curved and straight stairlifts as a safe way to travel up and down those treacherous staircases. Our Boynton Beach professionals can consult with you to measure, design and install the perfect stairlift for your residential needs. This is also a great option for businesses and public places where there will be clients who cannot navigate existing stairs. 
We carry chair stairlifts for both indoor and outdoor use. Straight stairlifts are installed where there is just one single case of stairs in a straight shot. Curved stairlifts are required for curved or spiral staircases or when there is more than one landing and the rail needs to turn to follow the next set of stairs. The low profile railing is placed along the top edge of the stairs. A quiet efficient carriage unit carries a stylish chair smoothly and safely along the rail system, transporting the user up and down stairs at the touch of a button. It is powered by a battery as a backup for when there might be a power outage. The chair comes in your choice of color to fit your décor and the seat conveniently folds up out of the way when not in use. Another option is our inclined platform stairlift. A wheelchair may be driven on to the platform so the user can ride the wheelchair with no need to transfer before traveling up and down stairs. 
We have a lot of great options to choose from. Our Boynton Beach technicians are professionally trained.  Since the straight stairlifts require no specialized curves, they are  available to rent.  Call us for rental pricing.
Our Boynton Beach, FL Professionals are ready to serve you as you seek more ways to make your home or business accessible to those with any kind of mobility issue due to illness, injury, war wounds, progressive disease or simply growing older. We offer a no obligation consultation to help determine some of the best solutions for your needs. Call our Boynton Beach location or click the text bubble below. We want to help you discover solutions to move more easily through life.