Stair Chair Lift Retail, Rentals, Repairs, and Installation Services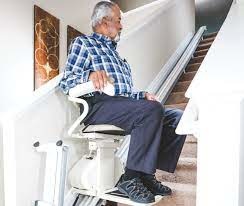 Stairs don't have to mean leaving the house you've invested in when you or a loved one can no longer navigate the staircase. Our professionals at Atlantic Healthcare Products can help determine if a stair lift is a solution for you. These highly rated Harmar Mobility curved or straight stair lifts can be installed by our factory trained team quickly and conveniently right on top of the edge of your existing stairs.  
The low key rail system is installed with very little change to your existing structure. In fact, it can be easily removed upon selling your house or when the stairlift is no longer needed. A carriage system travels along the rail, transporting the user in a comfortable stylish seat up easily and smoothly up and down stairs at the touch of a button. The chair even folds up out of the way when not in use, leaving more room for traditional travel up and down the stairs. Models are available for curved or spiral staircases, staircases with multiple landings, and straight staircases, as well as for indoor or outdoor use. 
Straight stair lifts are applicable where there is a single straight staircase. When there are multiple landings with sets of stairs or any type of curves involved, a curved stairlift is required. Both straight and curved stairlifts are made in modular pieces so they can be custom fit together for your particular stairs. 
We even have an inclined platform which can safely and easily carry a wheelchair in use up and down the rail system so there is no need to transition in and out of the wheelchair to travel to the next level. Ask about our rental program for straight stairlifts in the Palm Beach Gardens, FL  area for short term use or to simply try out one of our stairlifts.
Our experienced accessibility professionals are ready to serve you in any way we can. It is our mission to help you find solutions for all your mobility needs. We offer no obligation consultations to help you find better ways to go through life. Call our West Palm Beach or Boynton Beach, FL locations or click the "Text Us!" Button on the lower corner of this page.
Atlantic Healthcare Products is pleased to serve Boca Raton Palm Beach Gardens, FL
For more information call (561) 408-0900