Vehicle Lifts for Cars, Trucks, SUVs, Crossovers and Vans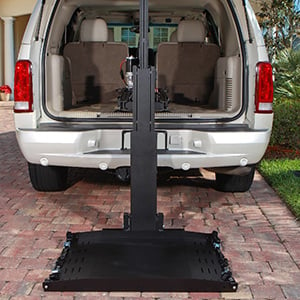 Are you looking for an easier way to load and transport your wheelchair or power scooter around Jupiter, Florida? We carry Harmar Vehicle Lifts so you can have the best selection from one of  the greatest innovators in the field. With such a large selection, we can help fit your new or existing car, van, SUV, crossover or truck. Let one of our experienced accessibility professionals help you find the perfect Vehicle lift for your mobility device, and your particular vehicle. We carry both hoist and platform models to meet every need. 
The hoist style vehicle lifts lift your wheelchair up and then swings it inside your personal vehicle. Most models allow you to keep your second row seating for extra storage or passengers. Some models even retain the third row seating. They allow you to transport your device inside out of the weather.
Depending on your mobility device and the make of your vehicle, you may need a platform type vehicle lift that carries your power scooter or wheelchair behind your vehicle. It is important to have your Atlantic Healthcare Products professional help you select the proper lift to make sure you have the correct weight capacity and style to handle your wheelchair or scooter. Sometimes you may have more than one device, so you may need a lift that can handle the heaviest aid. 
We also carry specialized seating that gives you easy access as you enter and leave your vehicle. They can be bundled with a vehicle lift to give you the most convenient loading and transport for your device as well as yourself. Our installers are factory trained professionals. There is also an option to uninstall to use in your next applicable vehicle as well. 
Atlantic Healthcare Products has an amazing network of experienced local professionals and the very best accessibility manufacturers across the country. Call us today at our West Palm Beach or Boynton Beach location,  fill out our contact form on our website or click the "Text Us!" button right on the bottom of this page. We look forward to serving our Jupiter, Florida neighbors.
Atlantic Healthcare Products is pleased to serve Jupiter, FL
For more information call (561) 408-0900