Stair Chair Lift Retail, Rentals, Repairs, and Installation Services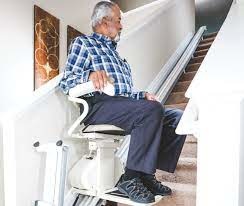 A stairlift can help you remain in your home in which you have invested your love and memories. When you or your loved one cannot navigate stairs in your current home, don't let this be the reason you move. Florida Atlantic Healthcare products offers solutions to your problematic stairs if you live in Jupiter, FL. 
We can professionally install our stairlift systems indoors or outdoors. For curved, straight or multi-landing staircases, our Accessibility professionals can assist you in custom fitting a stairlift. A powered carriage system travels along a rail that fits along the top edge of your stairs next to the wall or railing. With it, a stylish, comfortable seat glides smoothly up and down, so you can avoid climbing stairs. The lift will take you safely from one level to another as you sit in the chair. 
We carry Harmar Mobility, one of the most respected stairlift manufacturers in the industry. There are many options for seat and fabric colors, rail colors, and other features that can be customized to meet your needs. Models are made in America with options for interior or exterior use.   As always, we ensure all stairlifts meet all ADA codes and standards. In the event of a power outage in Jupiter, FL, there is a backup source of power. 
If you do not know how long you will require a stairlift, ask about our stairlift rental options available for straight stairs. Perhaps the Stairlift is only necessary while you are recovering from surgery or during a relative's visit.  Perhaps you or a loved one are growing older and the stairs are a challenge. You might want to try one out before buying one. 
Atlantic Healthcare Products is committed to helping you find the best ways to gain the greatest access to life. Contact us at our West Palm Beach or Boynton Beach locations, fill out a contact form or click the "Text Us!" button right at the bottom of this page! We are committed to  serving all of Southern Florida. 

Atlantic Healthcare Products is pleased to serve Jupiter, FL
For more information call (561) 408-0900