Vehicle Lifts for Cars, Trucks, SUVs, Crossovers and Vans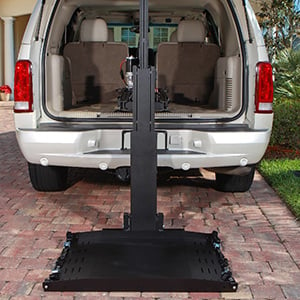 If you or a loved one uses a wheelchair or power scooter to move through life, we can help you load and transport your device more easily on your own personal vehicle. We carry a large assortment of Vehicle Lift to fit your new or existing van, car, SUV, pickup or Crossover. It is our aim to help you move with greater ease through life. We want to help you be able to load and go where you want when you want. It is important to have the assistance of one of our local Accessibility professionals make certain you are getting the proper Vehicle lift for your mobility device, model of vehicle and your particular disability. That's why we offer no obligation consultations.
We carry Harmar Mobility vehicle lifts. They are most highly respected and pioneers in the field. We offer hoist Vehicle Lifts which lift your wheelchair up and then swings it into your vehicle. This allows your mobility device to be out of the weather. Most models allow you to retain your second row seating leaving room for more passengers or storage room. Some models even keep your third row seating available. The platform style Vehicle Lifts allow you to ride the wheelchair or scooter onto the platform and then it lifts to be transported on the outside of the vehicle. Both types have easy-to-operate remote controls. Again, one of our accessibility professionals needs to make certain your Vehicle Lift can handle the weight of your mobility device. The hitch that pulls the lift also needs to handle the weight load. 
We install the Vehicle Lifts for you. There is also an option to uninstall and place the lift in your next applicable vehicle. Ask about our specialty seating which makes for easier entrance and exit from your vehicle. 
Atlantic Healthcare Products is proud of our national line up of highly respected accessibility manufacturers, our experienced team of experts, and our local personal service. We are honored to help our Delray Beach, FL neighbors  in finding the best possible solutions to make moving through life easier and more enjoyable. Call our Boynton Beach, FL or West Palm Beach, FL location or click the "Text Us!" button on the corner of this page. We look forward to hearing from you.
Atlantic Healthcare Products is pleased to serve Delray Beach, FL
For more information call (561) 408-0900