Stair Chair Lift Retail, Rentals, Repairs, and Installation Services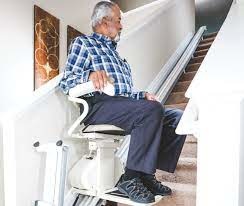 Atlantic Healthcare Products is please to serve  Delray Beach and the surrounding area.  If stairs are keeping you or your loved one from being able to freely move about your residence and enjoy all areas, one of our innovative Stairlifts may be just the solution you're looking for whether you have an older home or a recently built home.
Atlantic Healthcare offers you the perfect stairlift fit for your unique needs. We partner with the highly- rated manufacturer, Harmar Mobility in able to offer you plenty of options to choose from. We offer Stairlift Systems for straight, curved, spiral or even multi-landing staircases. There are even models crafted especially for interior or exterior use. This means you can have a way to access stairs to your front, rear or side entrances, raised or lower decks, basements, apartments, upper stories or split-level areas. 
Anywhere there are stairs or steps that can no longer be navigated by you or a loved one, we can install a Stairlift to transport safely up and down those stairs. A Stairlift is a system that includes a low profile rail that is installed inconspicuously along the wall or outer edge or your stairs. A carriage system smoothly and safely carries a comfortable stylish chair up and down the staircase, giving full access to areas which have become impossible to go. A Stairlift could even keep you from moving from the home you love. 
The seats are available in choice of color and fabric to better complement any style. Our Stairlifts come with a backup power source in case of a power outage. There is also a platform available that can transport a person seated in a wheelchair up and down the Stairlift rail system. We would be honored to see if this is a good solution for your needs. Ask about our other possible solutions for stairs such as our Wheelchair Platform Lifts or Elevators and Wheelchair Ramps.
One of our experienced accessibility professionals can meet with you at no obligation on your part. We can assess your stairs, measure, and give you a quote. Our Stairlifts are designed to meet all ADA codes and standards. Ask about our rental program available for straight Stairlifts. 
We want to provide personal local service anywhere in the Delray Beach area.  Call our Boynton Beach, FL  or West Palm Beach, FL location today or contact us by clicking the "Text US!" button in the lower corner of this page. We are here to help our Southern Florida neighbors.
Atlantic Healthcare Products is pleased to serve Delray Beach, FL
For more information call (561) 408-0900