Vehicle Lifts for Cars, Trucks, SUVs, Crossovers and Vans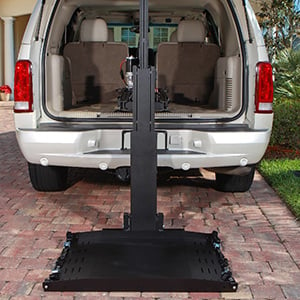 Boca Raton in Southern Florida has so many beautiful places to go see, but those who use wheelchairs or scooters find it challenging to just start their car and go. That's why we offer such great options in Vehicle Lifts. Our Atlantic Healthcare Products  professionals can help you find the proper Vehicle Lift for your new or existing car, van, SUV, or truck. We have a lot to choose from. There are hoist and platform models, lifts to transport inside or outside your vehicle, and certain models work best with your particular vehicle, mobility device and disability. We take great pride in carrying  Harmar Mobility Vehicle Lifts. They have decades of experience and are pioneers in the field.
With their craftsmanship and dependability partnered with our network of resources and personal local service, we can help you with the best possible way to load and transport your wheelchair or scooter. It is our goal to make it as easy as possible to go where you want when you want. We can help you choose the correct vehicle lift to fit your existing vehicle and even be transferred to your next applicable vehicle. Our professional installers are factory -trained.
We have other great accessibility options as well, such as seating that makes it much easier to enter and exit your vehicle. Atlantic Healthcare Products is always on the lookout for the latest innovations to help you or your loved one move with greater ease through life. Our staff wants to earn the right to become part of your team to move with greater access in your own home, vehicle, church, school, business and more public spaces. 
Call one of our local branches for a no obligation consultation. You can also click the "Text Us!" button in the worn of this page.  We can't wait to help our neighbors in Boca Raton, Florida.
Atlantic Healthcare Products is pleased to serve Boca Raton, FL
For more information call (561) 408-0900