Stair Chair Lift Retail, Rentals, Repairs, and Installation Services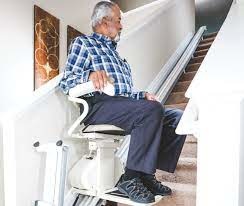 Stairs are one of the biggest obstacles for the 7 million people in the United States that face mobility challenges. That includes those who live in Boca Raton, Florida and the surrounding area. This is exactly why we carry Stairlifts made by Harmar Mobility. With such a great selection of stairlifts to choose from, our Atlantic Healthcare Products accessibility professionals can help determine the perfect fit for your particular stairs.  You do not have to move from the house you love simply because it has stairs you or your loved one can no longer navigate. A stairlift customized to fit your staircase might be just the solution. We can also help you with other possible solutions for your existing stairs.
A stairlift is made up of a low profile rail system that is installed along the top edge of your stairs against the wall. A quiet powerful carriage rides smoothly along the rail carrying a comfortable stylish seat to safely transport you or your loved one up and down the staircase. The seat is available in choices of fabric and colors to complement your décor. The chair folds up out of the way when not in use, leaving the full stairs open for others to climb.
Our accessibility professional measures and designs the stairlift system to fit your unique staircase. The railing pieces are manufactured with great care in modular sections. Our installers are factory trained. We can install a stairlift on any staircase whether it is straight, curved or spiral. Models are available for either interior or exterior use. This means if you have stairs to an outdoor entryway, deck or stairs to a lower area, an exterior stairlift will give you access. We even have rental options available for straight stairlifts—which are designed for any straight single set of stairs. Whenever there are multiple landings, a curved or spiral staircase a curved stairlift is required to make the turns.
We at Atlantic Healthcare Products are dedicated to assisting our neighbors in Boca Raton, FL  in any way we can to come up with the latest innovative tools to help you with greater access in your private home, church, school, office or business. Call our Boynton Beach, FL  or West Palm Beach, FL location today or contact us by clicking the "Text US!" button in the lower corner of this page. We are here to help our Southern Florida neighbors.
Atlantic Healthcare Products is pleased to serve Boca Raton, FL
For more information call (561) 408-0900