Book an Appointment for Free Compression Stocking fitting
For your convenience, we recommend booking a 15-minute Free Compression Stocking fitting appointment to help minimize your wait. You can schedule an appointment online for our West Palm Beach and Boynton Beach locations. 
Compression Fitting, Socks & Stockings
We can help you get the right compression socks and stockings for your needs.  Our on-staff team of Licensed Orthotic Assistants and Bracing Fitting are Licensed through FL AHCA.  We can give you professional, expert advice about the best splint or orthotic to fit your needs.  We pride ourselves on having most items in stock, which allows us to immediately fit most customers with the compression socks or compression sleeves they need.  Compression fittings for socks and stockings are available at our West Palm Beach and Boynton Beach retail stores.  Our Compression Stocking Specialists provide expert advice on selecting compression socks, hoses, stockings, and custom-fit compression sleeves.  Our trained staff will also show you how to correctly put on and take off your compression stockings to maximize the benefits that compression stockings provide.
We encourage our customers to take advantage of our knowledge and experience to help ensure your continued use while you still need compressoion therapy. 
• Choose the best compression pressure for your needs.
• Choose the best style for you, open-toe socks, calf-high, full-leg for the lower body, and full arm styles.
• Don your new compression socks or sleeve using special gloves or devices.
• Doff the compression socks or sleeves at night.
• Use proper wear schedules.
• Care for your garment or orthotic brace.
Our Compression Stocking Partners

Reordering Compression Stockings. 
We make reordering your compression stockings easy.
In-Store Orders: Give us a call, and we will be happy to fulfill your previous order and provide you with Curbside Pick up or Delivery to Door. 
On-line Orders: If you have previously placed your order online, log into your Atlantichp.com Account and view your recent order. Once you find your previous order, press the Re-Order button and checkout.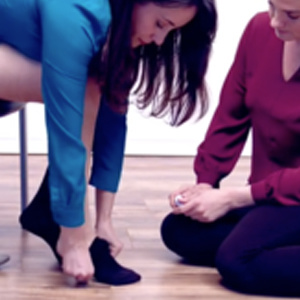 What do compression stockings do? 
The pressure these stockings put on the legs helps the blood vessels work better.  The arteries that take oxygen-rich blood to the muscles can relax, so blood flows freely.  The veins get a boost pushing blood back to the heart. 
Compression Stockings can keep legs from getting tired and achy.  They can also ease swelling in the feet and ankles and help prevent and treat spider and varicose veins.  They may even stop you from feeling light-headed or dizzy when you stand up. 
Because the blood keeps moving, it's harder to pool in the veins and make a clot. If one forms and breaks free, it can travel with the blood and get stuck somewhere dangerous, like the lungs. Clots also make it harder for blood to flow around them, and that can cause swelling, discolored skin, and other problems.


Some athletes, including runners, basketball players, and triathletes, wear compression socks and sleeves on their legs and arms. The theory is that, during activity, better blood flow will help get oxygen to their muscles, and the support will help prevent tissue damage. And afterward, the beefed-up blood and lymph circulation will help their muscles recover quickly. They won't be as sore, and they won't cramp as much.
Indeed, the application of compression stockings would seem to be relatively cut and dry: Take leg measurements, use the manufacturer's guidelines for determining the level of compression, choose a style, and hand it over to the patient.
But not all diabetic patients are created equal, nor are compression stockings. Patients at one end of the spectrum may benefit from support pantyhose for light pressure to prevent or reduce mild swelling. This condition is uncomfortable and can delay wound healing in diabetic patients. At the other end are those who suffer from significant edema or venous leg ulcers are candidates for prescription-strength compression stockings. And then, there are patients with peripheral arterial disease (PAD) and peripheral vascular disease (PVD). Considerations when prescribing compression hosiery include proper diagnosis, accurate measurements, and, of course, patient compliance.